Description
DuraShiner CV
Seasoned car wash operators know that automatic tire shining can be a huge money-maker. But now, that revenue doesn't have to carry the price tag of high aggravation. Belanger's DuraShiner® CV delivers consistent shine, "Rim-to-Tread"℠, with as little as one ounce of chemical per vehicle — less than half what other designs require.
The patented DuraShiner® CV is a fully programmable tire dresser that is unmatched in its application quality, minimal chemical usage, and revenue generating opportunity.
The DuraShiner® CV features ChemCycle® Technology. This technology further reduces chemical consumption by automatically rotating the applicator wheels to keep the fluid in motion, the sponges properly saturated, and valuable chemical off your tunnel's floor.
The DuraShiner® CV is also designed with a 'cascade' chemical delivery manifold and 15 individual 8-inch foam wheels that are beveled on their lead in edges. Together these 2 features prevent over saturation of chemical, eliminate excessive chemical being trapped in outer wheel treads, and significantly reduce the chemical slinging effect that commonly occurs with other competitive tire dressing equipment.
With the DuraShiner® CV, the dressing stays on the tire, and off your floor, walls, and customers' vehicles. And your profit stays where it belongs — in your pocket!
Description
DuraShiner CF
The patented DuraShiner® CF from Belanger is the world's first and only automatic tire shiner specifically designed for in-bay wash applications. It's built to work for in-bay operators, bringing immediate new revenue, and quality results that sustain repeat business. The DuraShiner® CF overcomes even extreme vehicle orientation issues, with Floating Head Technology™ that auto-aligns the applicator rollers with each wheel, "bringing the shine to the tire"℠, every time.
Competitors' so-called 'in-bay' tire shiners force customers between two fixed guiderails, rendering it impossible for the shiner to adjust to the various vehicle angles encountered in a drive-through wash bay. The DuraShiner® CF is different. Instead of guiderails, the DuraShiner® CF uses Floating Head Technology™ to adapt to the customers' driving habits, providing superior results to the fixed-position in-bay tire shiners currently on the market.
In the case of a serious navigational error, the DuraShiner® CF floats out of harm's way, then comes back into position. To provide a smooth, drag-free experience, the DuraShiner® CF glides over tires with just the right pressure – then auto-retracts, ready for the next cycle.
By combining its Floating Head Technology™ with the proven application methods of the tunnel-version DuraShiner® tire shiner, the DuraShiner® CF delivers quality results for in-bay tire shining. In fact, the DuraShiner® CF delivers consistent shine, "Rim-to-Tread"℠ coverage and minimal chemical use, often less than two ounces of chemical per application.
The bottom line? The DuraShiner® CF brings tire shining revenues to the in-bay market, helping in-bay operators compete with tunnel operators, who have long enjoyed these lucrative profits for themselves.
Description
DuraBlaster CV
The DuraBlaster™ CV Wheel Cleaner is the industry's smoothest and most reliable lateral-pivot wheel cleaner, engineered for consistent wheel tracking for up to four feet of conveyor travel - while avoiding the erratic 'flip' movement seen on competing models.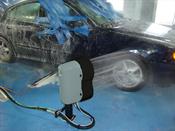 The reason for its precision tracking is the patent-pending oscillating DuraBot™, that converts pneumatic piston travel directly into oscillating motion - eliminating the jerky movement associated with traditional linkages. For maximum reliability and uptime, the DuraBot™ uses ball bearing construction with a greased-for-life design. And since operators deserve ultimate control, the DuraBlaster™ CV also features an on-board 'high resolution' speed control that operators can 'dial in, right in the bay.
To ensure total coverage from sidewall to sidewall, the DuraBlaster™ CV uses twin stacked 8" diameter spinners per side, that together use 8 zero-degree nozzles to deliver total wheel coverage at multiple angles of attack. What's more, these spinners help clean the front bumper and grille as each vehicle approaches. And, the spinners feature stainless steel construction for proven long-term performance.
Because the DuraBlaster™ CV is made to accommodate many tunnel configurations, it features a small operating envelope of just 24" x 28", and is easily placed under existing equipment. And since every operator has their own preferences, the DuraBlaster™ CV is designed to work with two different integrated pump stations, that offer medium-pressure and high-pressure applications as desired.
Contact:
For more information regarding this product, click here to send a message to one of our representatives.

Thank You